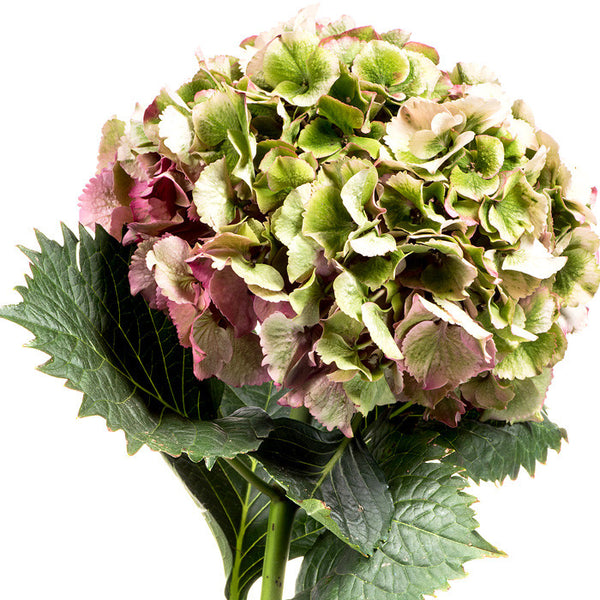 Hydrangeas Antique Green
Next
Small packs are 6 stems and medium size boxes are packed 15 stems.
Add to wishlist
Hydrangeas aren't only large in size – they make a big statement, too. Available in a wide variety of colors, our hydrangeas are available year-round and are the perfect floral accent for any occasion. These blooms are beautiful on their own, but they also pair well with many other flower varieties for use in arrangements, bunches, and bouquets. We recommend ordering your wholesale hydrangeas 2-3 days before your event so they have time to properly hydrate and bloom.
 Common name: Hortensia, Hydrangea
Availability: February-December, peaking May-October.
Vase life: Approx. 7-14 days.
Flower notes: A cottage garden classic, the showy, unmistakable mop-shaped heads of Hydrangea are, despite their size, hugely versatile. Tall stem length..
Color range: Pure white, chine blue, deep blue, lilac, pink, cerise pink, green, burgundy.
 Care and Handling
Clean, fresh water is essential for maximum vase life
Change water every day, re-cutting stems each time
Limp heads can be revived by submerging them for a short period in tepid water.
Stem type: woody
Replace water every day, re-cutting stems each time. Mist occasionally to prolong vase life.
Quality Assurance
Complaints & Claims: If you are not absolutely satisfied with your flower shipment, please call BloomsyShop.com IMMEDIATELY after opening your boxes AND email us to info@BloomsyShop.com. All complaints must be communicated verbally and accompanied with images indicating all the flowers within 24 hours of receipt of the product or your claim will not be accepted and no refund will be granted. In order to process your claim,we MUST receive pictures of the product. We do not guarantee color tone matches. Flowers are a product of mother nature and vary in color from season to season.